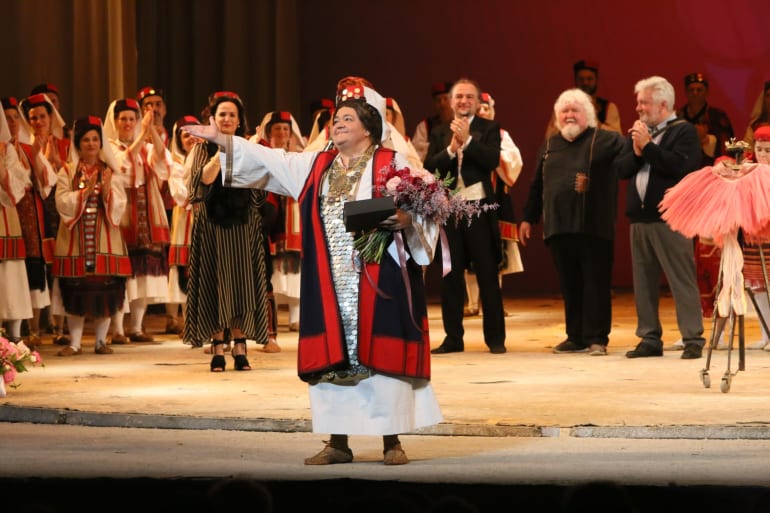 Celebration of the entire artistic career of the national Opera principal Ivanka Boljkovac

Opera

— 21. May 2023.
The long-term national principal of the Opera of the CNT in Zagreb Ivanka Boljkovac appeared in the role of Doma in the festive performance of Ero the Joker composed by Jakov Gotovac with which she celebrated her entire artistic and rich career. The conductor was Josip Šego and the stage director Krešimir Dolenčić.
Ivanka Boljkovac became a member of the CNT in Zagreb after graduating at the Academy of Music in Zagreb in 1980. She created numerous roles, acted in films and series, and performed all over Croatia but also in Germany, Austria, France, Canada, Italy, Luxemburg, etc. In 1993, she was granted the Croatian Theatre Arts' Award for the role of Irmengarda in opera Porin by Vatroslav Lisinski. In 1996, she was granted the Award Marijana Radev for the role of Leonora in Verdi's opera La Forza del Destino. On June 17, 2003, the Ministry of Culture awarded her the status of a national principal, and she was also granted the Medal of the City of Karlovac. She received her second Croatian Theatre Arts' Award in 2005 for the role of Volumnia in opera Coriolanus by Stjepan Šulek. She received her second Award Marijana Radev in 2012 for the title role in opera Jenufa by Leoš Janaček. She is also the recipient of the Order of Danica with the image of Marko Marulić for outstanding achievements in the field of culture.
Ivanka Boljkovac has always pointed out that despite the awards she had been granted, her greatest reward has always been a long applause and a satisfied audience.